1 Day Bathroom Remodel

Revitalize Your Bathroom in as Little as One Day!
1 Day Bathroom Remodel
If you're looking for a quick and efficient way to transform the bathroom of your Texas home, look no further than Expo Home Improvement. In many cases, we can complete your bathroom remodel in a day, giving you more time to enjoy your updated retreat (and less time dealing with the renovation process).
We understand that time is precious for busy homeowners in Dallas-Fort Worth, Austin, San Antonio and surrounding areas. This is why we've honed our processes to maximize efficiency while still exceeding expectations with quality and customer service. If you're wondering whether it really is possible to get a 1-day bathroom remodel, read on or contact us for a free in-home consultation today!
Receive a Free Quote
50% Off Installation +
No Payments, No Interest for the Next Year!*
Benefits of a One Day Bathroom Remodel

Here are some other benefits of our bathrooms in a day:
Speed and convenience: Enjoy a brand-new bathroom without the hassle of a long and disruptive renovation process.
Customization: Our one day bathroom remodel is adaptable to your unique needs. Customize your materials, styles and finishes to create a look that reflects your unique tastes.
Cost effective: A bathroom makeover doesn't have to break the bank! Our one-day remodels offer will help you enhance your bathroom aesthetics without overspending.
One Day Bathroom Remodel Options

Searching for "1 day bathroom remodel near me?" Here are some examples of one-day remodel options we offer near you:
Bathtubs: Whether you're interested in a replacement tub, Jacuzzi® tub, a tub-shower combo, bath conversion or standalone tub, we have top-quality options for you.
Showers: We excel at a variety of shower upgrades, from replacement showers and shower enclosures to walk-in showers, custom showers and more.
Walk-in tubs: Improve the safety of your bathing experience with a walk-in tub that is easy to access, convenient and packed with relaxing features.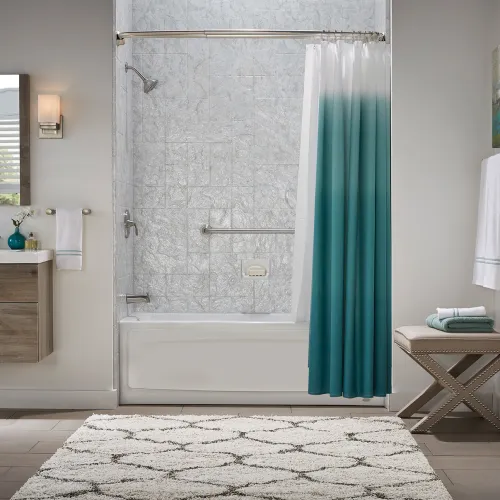 How a Bathroom in a Day Works
The process for installing a bathroom in a day is easier than you might think. Whether you're in DFW, Austin, San Antonio or the surrounding areas, we will ensure you have as seamless of an experience as possible. Ready to get started? Here's how our process works:
Consultation:

Text or call to speak with our expert design team to discuss your vision and preferences for your bathroom in a day.

Customization:

Choose the materials, colors and fixtures that align with your design goals. Our team will help you create a personalized plan for your bathroom upgrade.

Remodel:

Sit back and relax as the Expo Home Improvement team works its magic. We'll handle every step of the process, from start to finish.

Enjoy:

Once the remodel is complete, you'll have a stunning new bathroom to enjoy.
Contact Expo Home Improvement today to schedule your consultation and learn more about our exciting one-day bathroom remodel options. Your dream bathroom is just a day away!
Get Started
Today
To learn more about our "bathroom in a day" process available to homeowners in Dallas-Fort Worth, Austin, San Antonio and surrounding areas, contact our friendly experts at Expo Home Improvement today.