Royal® Building Products
Choosing the right siding is likely the biggest, and potentially the most confusing, exterior decision out there, but it doesn't have to be. Expo Home Improvement, along with Royal® Building Products, is out to make the experience simple and supremely satisfying. With gorgeous, low-maintenance siding that covers a wide range of styles, climates and budgets, you'll be sure to find the perfect solution for your home.

Royal® Building Products' Exterior Portfolio® Vinyl Siding is made from a co-extruded and permanently bonded, two-layer system, and engineered for low maintenance. This layering system, along with the materials it's made of, far exceeds other options like fiber cement siding or engineered wood, which both need periodic painting and caulking. Vinyl Siding only needs mild soap and water from a garden hose for periodic cleaning.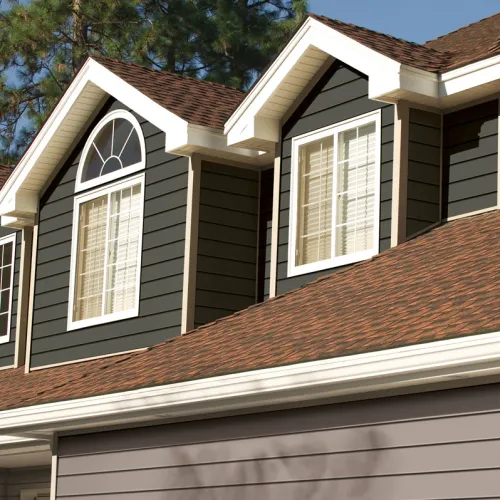 Market Square®
Siding
Market Square® Siding is a perfect balance of cedarlike beauty, commendable rigidity, weather endurance and low maintenance. It's what people envision when they speak of a "put together" look. With its ample range of widths and colors, carefree upkeep and rugged wind resistance, Market Square embodies well-thought-out design that stands up to the demands of time. In other words, its resilience is as good as it looks.
Never needs painting
Won't warp, buckle or sag
Eco-friendly
Industry-leading Double Limited Lifetime Warranty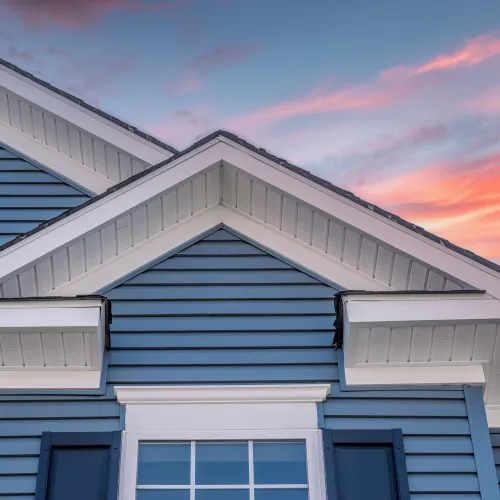 Market Square® Siding
Go Environmentally Friendly With
Market Square® Siding
Market Square® Siding is as green as it is colorful and curb appealing. It's engineered to eliminate the need for painting or staining, and represents its environmental friendliness in many different ways—from production and manufacturing to transportation and installation. For example, virtually all scrap materials are recycled during production, and no hazardous materials are emitted when it's cut for installation.
• Manufactured from recyclable materials
• Rivals cedar in overall green performance
• 1/3 the environmental impact of fiber cement
Get A Clean Look With
Market Square® Siding
Whether you want a clean, contemporary look, amplify the elegance of your home's style, or convey something more traditional, Market Square® Siding styles give you true design flexibility. Every one of our styles—4", 4.5" and 5"—projects the look of natural cedar while thwarting time, weather, wear and tear.
• Robust .044" thick panel
• Choose from three profiles: D4, D45DL and D5 with a partial rollover hem
• Can withstand hurricane-force winds up to 180 mph
• Beautiful textured grain of forest-grown cedar
Color
When it comes to how your siding presents itself, color is crucial. So we pay a lot of attention to what's trending and what works. We have formed our siding pigments to deliver vibrant curb appeal, resist fade, and fend off the elements day after day. Choosing your own colors can be fun, but a bit overwhelming. If you need a nudge, get ideas and tips from the
color combining tool
.
Our proprietary Chromatix® technology color protection features infrared-reflecting pigments to reduce heat buildup. We added a UV formulation with mineral-based pigments to keep siding colors from fading. Sound a bit scientific? It should! We understand the importance of effortlessly maintaining the look you create in a challenging outdoor environment. And, we back it up with an industry-leading Double Lifetime Warranty. What you get is rich, true color that raises the curb appeal of your Market Square® Siding.
Featured in Smart Styles™ Premium and Smart Styles™ Expressions shades
Proprietary infrared-reflecting pigments reduce heat buildup
Warranted to fade less so dark colors stay true