Luxurious Safety Is Yours with a

Whirlpool Bathtub
Nothing matches the feeling of a long, hot bath — it's relaxing, refreshing, and helps to ease the aches and pains of a long day. However, if you have a tub that is damaged, outdated or no longer fits your needs, the daily quest for ultimate bathtub relaxation goes down the drain.
At Expo Home Improvement, we can quickly get you back to bath time relaxation by providing a variety of bathtub replacement solutions to fit your needs, style and home. Partnering with our expert team at Expo Home Improvement is an easy choice, as we offer premium tubs from the trusted brand Jacuzzi®, and service you can count on.

Receive a Free Quote
50% Off Installation +
No Payments, No Interest for the Next Year!*
Jacuzzi Replacement Bathtub
Benefits

When you select a Jacuzzi® bathtub for your home, you are choosing a trusted brand that laid the foundation for hydrotherapy health benefits and well-being.
With a Jacuzzi® bathtubs, you'll be able to enjoy deep relaxation, better sleep, increased energy, and improved pain relief. Some other bathing benefits include:

Promotes arthritis relief
Hydrotherapy can help you relax, unwind and provide stress-relief
Can relieve post-workout aches and pains
Bathing before bed can help calm restless leg or cramps
Relieves tension and prevents back strain
Energizes circulation after sitting for long periods
You can also feel good about your investment because every Jacuzzi® bathtub is backed by a limited lifetime warranty, and to make the remodeling process as fast as possible, Expo Home can install your tub in just one to two days. Plus, you can select from a variety of fixtures, wall surrounds, and accessories to further customize your bathing experience.

For more information about Expo Home Improvement and the Jacuzzi® tubs we install, contact us today or fill out our form for a free quote. We would be happy to schedule a free, no-obligation consultation in your Dallas-Fort Worth, Central Texas, or San Antonio area home.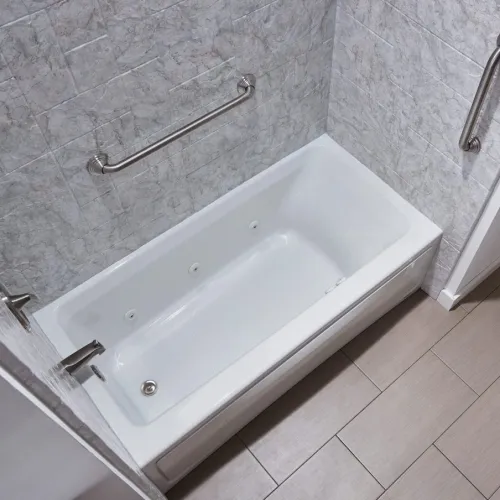 Enjoy Soaking in a Relaxing Whirlpool Tub,
Right in the Comfort of Your Own Home

You don't need to go to a spa or the gym to enjoy a relaxing soak in a jetted whirlpool bathtub. Instead, let Expo Home install a beautiful new soaking tub in your home in the Dallas-Fort Worth, Central Texas, or San Antonio area right in your existing bath space. What's more, our skilled factory-certified installers can typically complete the installation of these tubs in just one to two days, making it as convenient as possible for you to upgrade to the bathroom you've been dreaming of.
Soothe Your Cares Away

The whirlpool soaking tubs we install can provide an even more relaxing bath time experience than traditional bathtubs because they:
Allow the entire body to be immersed in warm water, which can increase circulation and stimulate the body's natural relaxation and healing mechanisms.
Are ergonomically designed to cradle the body, making your bath supremely comfortable.
Come equipped with high-volume jets with adjustable intensity and directionality that can soothe aching muscles.
These tubs also have a non-slip surface that makes stepping in and out of them less precarious. We can also install grab bars in the best location for you to further assist with stepping in and out of the tub.
Even if you currently have a shower but feel your bathing needs would be better suited with a soaking tub, we can perform a shower-to-tub conversion that allows you to enjoy this spa-like experience right in your own home.
For more information on our whirlpool soaking tubs, contact Expo Home today or fill out our form for a free quote. We are also happy to set up a free, no-obligation consultation in your Dallas-Fort Worth, Central Texas, or San Antonio area home.