Walk-In Tubs from Expo Home Improvement Make Bathing Safe and Luxurious

Enjoy Bathing Again by Having a

Walk-in Tub Installed in Your Home
Taking a soothing bath at the end of a long day is one of life's greatest simple pleasures. But for those with limited mobility, stepping in and out of a bathtub can be risky. That's why Expo Home Improvement offers walk-in bathtubs to homeowners in the Dallas-Fort Worth and San Antonio areas, as well as throughout Austin and Central Texas.
Expo Home Improvement has partnered with Safety Tubs® to provide you with the highest quality walk-in-tub on the market. The Vantage Series by Safety Tubs® has exclusive features that will make your bathing experience therapeutic, accessible, and safe.
The Safety Tubs® Gelcoat walk-in bath provides a similar bathing experience to larger models but fits in smaller spaces and uses less water. The included tub extender allows this tub to retrofit in the same space as a standard bathtub. The full sized, outward or inward opening, contoured door with a low door threshold allows ease of entry and exit.
Fully equipped, the Safety Tub® offers all the latest in safety and comfort features bundled together at one low cost and backed by a lifetime warranty on the door seal, a 10-year warranty on the tub shell and a 5-year warranty on all other components.
Receive a Free Quote
Free Installation +
No Payments until 2023!*
Equipped with Features that
Promote Safety

When you partner with Expo Home Improvement to have a walk-in tub installed in your home, you will be getting a product that is designed with safety in mind. Our walk-in tubs are equipped with the following features:
Inward or Outward Swinging Door
Tub Extender to fill 60″ space
Available in White or Biscuit and in Left Hand or Right Hand Door/Drain Configuration
Watertight door system with a lifetime warranty on the door seal
Built-in chair height seat
Color matched or polished chrome trim and cable driven waste and overflow
Built-in safety bar and textured tub floor
Cushioned neck rest
Polished Chrome premium fast-fill tub faucet and handheld showering wand
Patented Minute Drain® fast water removal system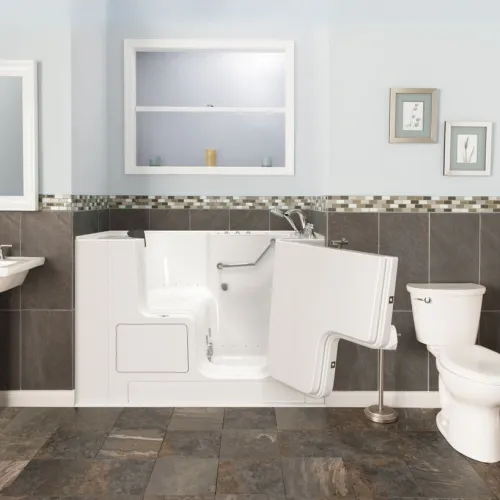 Learn More about Our Walk-in Tubs

Expo Home Improvement is happy to help you choose from our selection of walk-in tubs to ensure you get the one that meets your needs and fits in your space. Plus, our skilled technicians can complete the installation of your new walk-in tub in as little as a day or two, so you don't have to worry about the inconvenience of not having access to your bathroom for an extended amount of time. Check out some of the amazing features:
Jet Massage:

A soothing and invigorating water jet massage system, the Jet Massage features an in-line heater and Legs-Only massage. Customize back and leg muscle therapies with 6 different water jets. The Jet Massage is combined with all of the features of the Soaker Tub providing an enhanced therapeutic bathing experience.
Air Massage:

Experience a soft and caressing all-over body massage powered by a single speed heated blower that releases thousands of air bubbles rising throughout the water from 21 different air jets. The automatic purge cycle helps keep the system running efficient and clean. The Air Spa is combined with all of the features of the Soaker Tub poviding an enhanced therapeutic bathing experience.
Dual Massage System:


Combines all of the features of the Soaker Tub, the Air Massage and the Jet Massage Systems, plus a multi-colored Chromatherapy light system for the ultimate therapeutic bathing experience.
Minute Drain® System:
Spend less time waiting with this patented innovation, that requires no additional plumbing. Once activated, it rapidly pumps the water out from within the tub-making it safe to open the door and exit the tub. Included in all systems.
Get Started
Today
To learn more about the walk-in tubs we have available to homeowners in the Dallas-Fort Worth and San Antonio areas, as well as throughout Central Texas, contact the walk-in tub experts at Expo Home Improvement today.