Walk-In Tubs from Expo Home Improvement Make Bathing Safe and Luxurious

Enjoy Bathing Again by Having a

Walk-in Tub Installed in Your Home
Taking a soothing bath at the end of a long day is one of life's greatest simple pleasures. But for those with limited mobility, stepping in and out of a bathtub can be risky. That's why Expo Home Improvement offers walk-in bathtubs to homeowners in the Dallas-Fort Worth and San Antonio areas, as well as throughout Austin and Central Texas.
Expo Home Improvement has partnered with Boca Walk-in Tubs to provide you with the highest quality walk-in-tub on the market. The Boca walk-in tub has accessibility features that include the lowest and safest step-in threshold of any tub on the market.
Fully equipped, the Boca walk-in tub offers all the latest in safety and comfort. Our walk-in tubs are designed to allow seniors to age in place, as we know safety is the greatest concern for this demographic with a higher risk of injury. We want to provide peace of mind that you and your loved ones can have a safe, therapeutic bathing experience. To learn more, call one of our experts in Dallas-Fort Worth, Central Texas and Georgetown, and the San Antonio areas.
Receive a Free Quote
60% Off Installation +
No Payments, No Interest for 18 Months*
Bathe with ease
Traditional tubs are sometimes difficult to get in and out of. A high quality walk-in tub, such as the one that we offer, eliminates that difficulty, and allows you bathe with ease. Our trusted team here at Expo Home Improvement is prepared to see your walk-in project through to completion.
Equipped with Features that
Promote Safety

When you partner with Expo Home Improvement to have a walk-in tub installed in your home, you will be getting a product that is designed with safety in mind. Our walk-in tubs are equipped with the following features:
2 inch lowest step-in threshold in the industry
Inward swinging door
Heated hydrotherapy
Soothing water jets
Watertight door system
"Dry drain" head pillow
Built-in ADA compliant seat
Grab bars and slip resistant-flooring and seating
Fast fill time and quick release drain
Color options like white and cream available
Tub faucets available in chrome, brushed nickel, or bronze
Backed by a limited lifetime warranty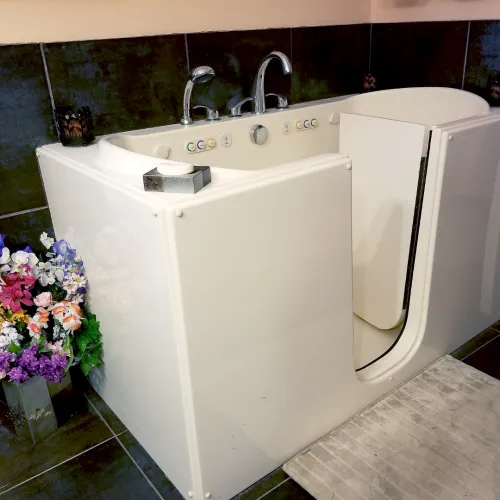 Get Started
Today
To learn more about the walk-in tubs we have available to homeowners in the Dallas-Fort Worth and San Antonio areas, as well as throughout Central Texas, contact the walk-in tub experts at Expo Home Improvement today.