Take Your House to the Next Level with Bay Windows
Bay windows are a classic way to add beauty and light to any room. With added views and comfy seating, they will elevate your home to the next level!
Open up the Room with Beautiful Bay Windows

Expertly Installed for Dallas-Fort Worth, Austin - Central Texas, and San Antonio Homeowners

A bay window is a highly-coveted window option for many homeowners. This type of window can become a striking focal point of any room, thanks to three windows that capture light from different angles and provide a stunning view to the outside. Plus, it can improve the function of the home by adding more usable space, often in the form of a seating area.
Custom designed to fit your home and your preferences

Experienced team of professional craftsman installers

Windows and labor are backed by a limited lifetime warranty
If you are looking to add a bay window to your home or replace your existing one with a more attractive and energy-efficient option, then Expo Home Improvement can offer you outstanding products and service. We have installed over 100,000 windows for homeowners in the Dallas-Fort Worth, Austin - Central Texas, and San Antonio areas and would be delighted to use our expertise to upgrade your home as well.
Receive a Free Quote
50% Off Installation +
No Payments, No Interest for the Next Year!*
High Quality Bay Windows
Bay windows can be a signature feature of your home when they are planned and installed with the best materials and craftsmanship. Let the team of professionals at Expo Home Improvement install your bay windows in Dallas, Austin, and San Antonio.

Bay Window Installation with Experience
Bay windows are the perfect place to put your decorative touch. With so many options and configurations, you need an experienced bay window installation team like Expo Home Improvement to make sure your vision can become a perfect reality.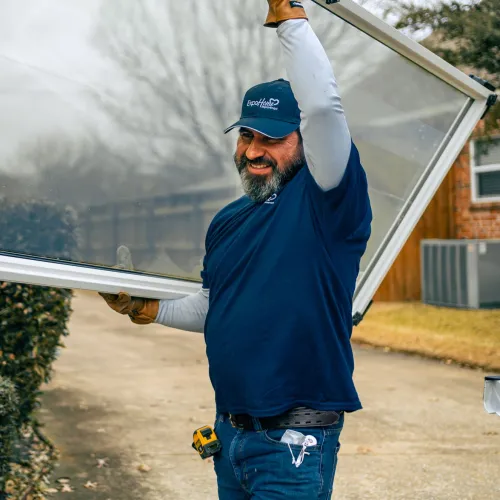 Bay Windows Constructed out of
Premium-Quality Materials
Bay windows can be made up of various types of windows. A common configuration is a fixed picture window in the center, with casement windows that can open on either side. No matter what type of windows you choose for your bay window, you can be sure that they will be:
Energy efficient - Our windows are manufactured to be extremely energy efficient and will help to keep your home at a comfortable temperature. They are also available with custom options, such as insulated glass and foam-filled frames.
Durable - We install durable vinyl windows that will not warp, bend, crack, or rot even decades after the installation, so they will maintain their beautiful appearance and continue to boost the curb appeal of your home with minimal maintenance.
Protected - Our windows come backed by a limited lifetime warranty on the frame, glass, labor, and workmanship, giving you exceptional peace of mind in the investment of your new bay window.
To learn more about having a bay window installed, contact Expo Home Improvement today or fill out our online form for a free quote. We would also be pleased to schedule a free, no-obligation consultation at your home in the Dallas-Fort Worth, Central Texas or San Antonio area.