Find Some Peace and Quiet When You Switch to Soundproofing Windows
The world outside is always on the go. Cars, music, sirens - modern life is loud! But with soundproofing windows, your home can finally get some peace and quiet.

Block Outside Noise by

Soundproofing the Windows in Your Home
If the windows in your home are letting in too much noise from the outside, you have probably looked into ways of soundproofing your windows. One option to consider is turning to Expo Home Improvement to have new windows installed that come with a variety of features designed to reduce outside noise infiltration, like:
Double and Triple pane glass

Foam-filled frames

Warm edge spacer systems
We have been in business since 2006, and in that time have helped countless homeowners install soundproofing windows in the Austin, Dallas -Fort Worth, and San Antonio areas that are not only beautiful but also help to reduce outdoor noise from entering their homes.
Receive a Free Quote
50% Off Installation +
No Payments, No Interest for 12 Months*
The Best Soundproofing Windows
Soundproofing windows are only as good as their installation. That's why you need a team, like Expo Home Improvement, to make sure they are flawlessly fitted to maximize their soundproofing quality and bring you years of peace and quiet.

Soundproofing Window Installation to Quiet Your Home
The best soundproofing windows only work when they are properly installed. Unless you have a team of professional, experienced installers, like the ones at Expo Home Improvement, you can buy all the fancy soundproofing you want, but they won't do the job. Our installers are factory trained to install your soundproofing windows with precision to make sure they can keep out the noise. And with our custom designs, your new windows will not only have your home quiet and cozy, but it will also look better than ever too!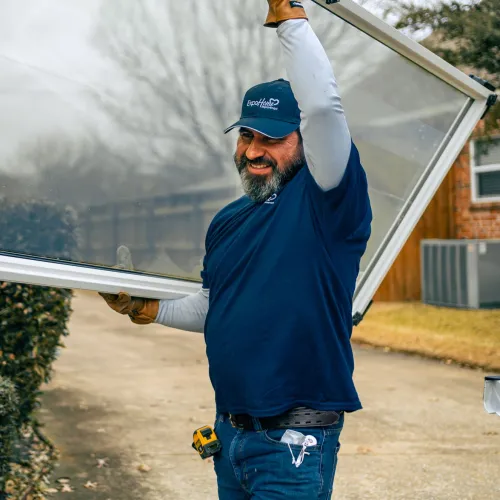 Incredible Features that Aid in Soundproofing Windows
When you're in the market for new windows that will help reduce the outside noise from entering your home, turn to the experts at Expo Home Improvement. Our windows are available in both double and triple pane glass, both of which are highly effective in blocking outside noise. Our windows are also available with foam-filled frames and a warm-edge spacer system, which also help to reduce noise from entering your home.

Give Expo Home a Call Today

When you contact Expo Home, we will be happy to schedule a free, no-obligation consultation where we will listen to your needs and then recommend windows that come with the soundproofing features that are just right for you. We proudly serve homeowners in the Dallas-Fort Worth and San Antonio areas, as well as throughout Central Texas.